The Best Window Coverings To Keep Heat Out
Windows have a big impact on the heating and cooling of your home, in fact, up to 87% of heat gain in the average home is through the windows. During the warmer months, many Australian's find themselves blasting the air-conditioning and pulling down the shades to try and escape the summer heat and it quickly adds up!
One of the easiest things you can do to save on your energy bill and reduce heat gain is to find the best blinds to keep heat out of your home. Most window coverings designed to keep your home cool are made from insulated fabrics which have the added bonus of keeping your home warmer during the winter months. Energy efficient window coverings have been found to be capable of reducing heat loss by up to 77%, which could dramatically improve your monthly electricity costs and keep your home cool and comfortable all summer long. 
What are the best window coverings to keep the heat out?
When it comes to choosing window coverings designed to help keep the heat out, there are no shortage of options. There are a variety of different indoor blind options and outdoor window coverings available in a range of fabrics and designs to suit almost every home and budget. So what are the best blinds to keep the heat out in your home?
Cellular blinds
Cellular blinds (also often known as honeycomb blinds) are one of the most innovative and energy efficient interior window covering options on the market. Their unique honeycomb cell design traps air, making them an excellent insulator. Cellular blinds will keep your home cool in summer and warm in winter and are ideal for Australian homes. The structure of these unique shades give them a very contemporary look and they come in a range of fabrics offering different levels of light and privacy, you'll find them available in everything from sheer to opaque or full blackout fabrics. Our cellular blinds are capable of reducing heat transfer by up to 58%, making them one of the most effective solutions for temperature control in your home. In addition to their impressive energy efficiency, they'll also help to protect rooms from UV rays and sun damage, and can be easily adjusted with a range of control systems including mono cord control, automated and motorised control and cordless systems. 
Curtains
Curtains are both a stylish and highly effective option for keeping the heat at bay. Curtains come in almost every colour and fabric imaginable, from plain to printed, sheer to blockout and everything in between. Not only will they enhance the look of any room they're in, they will also improve the insulation in your home. For maximum flexibility and heat protection, curtains pair well with blinds but will also do an excellent job of reducing heat gain alone. 
 Sunscreen roller blinds 
If you prefer the look of sleek roller blinds, then sunscreen fabrics may be the right choice for you. Window shades made from sunscreen fabrics are some of the best window blinds to keep heat out if you value style and versatility. Sunscreen roller blinds are made from an almost entirely translucent fabric capable of blocking 99% of the sun's UV rays, and up to 85% of the heat from the sun. They are perfect for sunny climates and rooms where you'd like to enjoy an unimpeded view and plenty of light. There are many different colours and textures of sunscreen fabrics available, perfect for different décor styles.
 Blockout roller blinds
If you're looking to make your home as private as possible, and stop heat and light from entering your home, then blockout blinds are the perfect solution. They are some of the best shades to keep heat out of your room because they prevent solar rays from entering entirely. They're an excellent option for keeping bedrooms cool and dark or for larger spaces and windows like theatre rooms because they are relatively lightweight and extremely versatile. Blockout fabrics come in a huge range of stylish colours and designs and can be paired with sunscreen fabrics on a double roller for even more flexibility.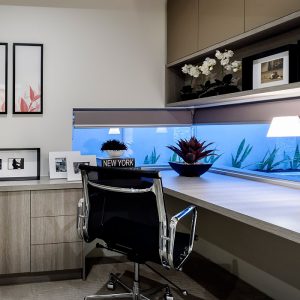 Awnings 
Door and window awnings offer excellent protection from the elements and are a great outdoor solution for regulating the temperature in your home. Not only will awnings improve the aesthetics of your home's exterior, but they'll also help to block out light, wind and rain. It's estimated that awnings can reduce solar heat gain by up to 77%. 
Choosing the best window coverings to keep the heat out of your home
When it comes to selecting the right window coverings for your home, there's a few factors you'll need to consider. You should firstly think about your light control and privacy needs – are you looking for shades that will keep a room dark, or do you want to allow maximum light to flow into a room? This will affect the fabric you choose; heavy blockout fabrics for instance are ideal for bedrooms and theatre rooms, whilst sheer or semi-opaque fabrics are perfect for living spaces where you would prefer more light, whilst still maintaining some privacy. You should also think about the environment that window coverings will be placed in – wet, humid spaces like bathrooms or kitchens don't always mix well with fabric blinds, for these spaces you might instead want to consider sunscreen or water-resistant fabrics, or even PVC or aluminium venetian blinds or plantation shutters. Finally, it's important to consider the size and shape of your windows, and which window coverings will fit into your budget. 
Contact us today for a free measure and quote!