Tips To Keep Your House Cooler This Summer
There's a lot to love about summer – it is the season of outdoor BBQs, afternoons in the pool and days by the beach afterall, but there are some downsides. Soaring temperatures tend to send many of us scampering indoors to escape the heat, but sometimes even that fails to provide relief! The Australian heat can be so intense that many of us find our homes are unbearably hot throughout the summer months. So, what can you do to stay cool? 
The answer that many homeowners come up with is 'crank the AC' but this gets very expensive, very quickly. There's actually a lot you can do (other than simply racking up a big energy bill) to control the temperature of your home and we've got all the best tips! Heat and insulation are some of the most common concerns that we deal with at The Blinds Gallery and after many years of ensuring our customers are kept comfortable inside their homes all year-round, we know exactly what you need to do to ensure your house stays as cool as a cucumber – even on a 40 degree day! Read on below to find out how to keep your home nice and cool this summer. 
Choose an insulative blind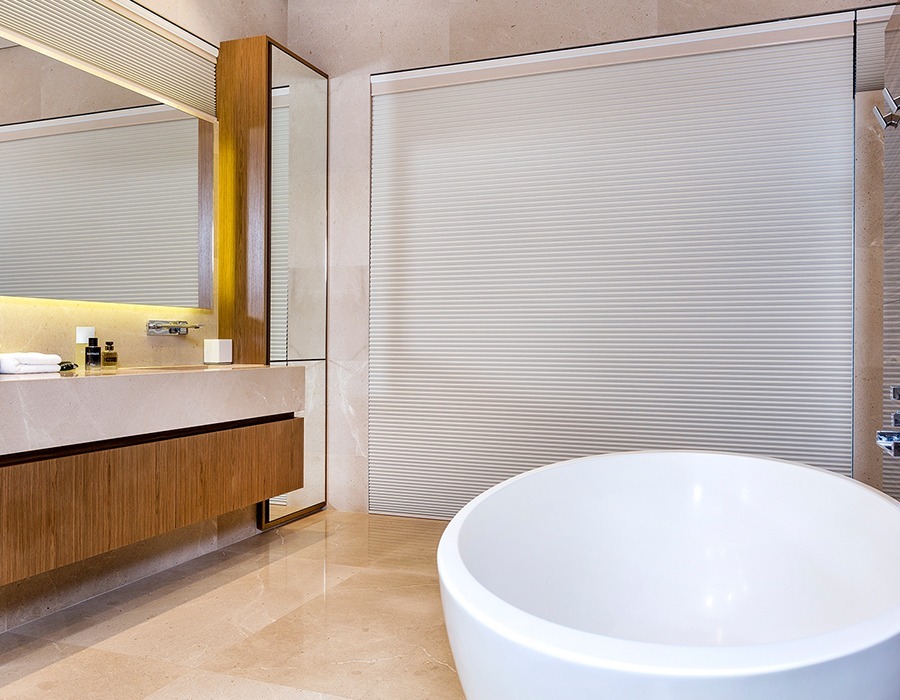 Not all window treatments are made the same. Certains types of blinds have better insulation properties than others. Cellular blinds, or honeycomb blinds as they are sometimes known, are often regarded as the best type of blinds for controlling the temperature inside your home – this is because of their unique construction. Cellular blinds are built with a unique open cell structure that is designed to trap heat. Windows are a major source of heat transfer, and this clever design helps to limit it through insulation. In the summer this translates to a cooler indoor space, and heat is prevented from radiating in through your windows and in the winter, warm air is prevented from escaping. It's a simple, effective and very affordable way to limit energy consumption as these innovative blinds are capable of reducing heat transfer by up to 58% and blocking up to 99% of UV rays. Cellular blinds are made from a wide array of fabrics, ranging from sheer through to light block fabrics. Thicker, room darkening fabrics are the most effective option for keeping your home cooler in the summer, although you'll still benefit from sunscreen and sheer fabric. 
If you prefer the look of a more traditional blind, roller blinds and roman blinds are your next best option. A close fit to your window in a thicker, light blocking fabric will do wonders for the insulation inside your home. Another option to consider might also be external shutters on your windows, as these can dramatically reduce heat transfer inside your home whilst also adding an extra layer of protection and even fire safety to your residence. 
Blinds and shutters can also be an effective solution for extending the usability of your alfresco space throughout the year. ZipTrack blinds, cafe blinds and outdoor roller blinds all come in a range of finishes and fabrics. Dark-tinted sunscreen fabrics are a great choice for keeping your space cooler and protected from the elements, whilst maintaining your view. 
Keep your blinds closed
For the best protection from the heat, keep your blinds closed during daylight hours. This will prevent the sun's harsh rays from penetrating your windows and will stop heat from entering your home. This is especially important if windows face the sun throughout the day and typically get a lot of natural light. 
Create shade
Help your blinds do their job by creating shade around your windows. Sunlight reflects off light surfaces, so unshaded bricks and concrete will get very warm. A few well-placed awnings can help protect your home from the heat, and add to the external appeal of your home. Large plants and trees, outdoor umbrellas and shade sails can also help to protect your home from the sun. 
Choose breathable fabrics
Some fabrics will be more effective at cooling your home than others. Heavy fabrics like tweed or velvet will trap heat, which can actually heat up your home as the heat will not be able to escape through your windows. A more breathable cotton fabric facing the inside of your home with a thicker fabric underneath is a much better choice for keeping your space cool. You should also think about fabric colour, dark colours absorb heat whilst lighter colours reflect the sun. A white backing on the outside of your windows will help to keep the sun's rays out of your home. 
Seal gaps
Your windows and doors can be a major culprit for allowing hot air into your home and one of the reasons for this is that they may have a few gaps or open spaces that allow heat in! Make sure you close your windows and doors during the day and check for any gaps, holes or open spaces – be mindful that they may exist for proper ventilation. If you think that a gap shouldn't be there, patch it up or seal it with silicone as this can help to keep your home much more temperature-regulated throughout the year. 
Consider air conditioner and fan placement
If you're installing new air conditioning in your home, think about the placement. An air conditioner positioned directly across from a wall is unlikely to effectively cool your space, try to choose the best areas for air flow. You'll also want to position ceiling fans towards the middle of the room, so they have a better chance of moving air around. In the summer, go for a counter-clockwise rotation as this will push air down and create a cooling effect. A higher fan setting is better for hot days.
Need help cooling your home? 
The experts at The Blinds Gallery know just what to do! Speak to us to find out what we recommend and keep your home cooler this summer. 
Book a free measure and quote online to receive a further 5% discount off your quote.
Interest Free Available
Up to 12 months interest free available so that you can style your home now and pay later!

I write this email in appreciation of the excellent service provided to me on three separate occasions when I have purchased blinds from The Blinds Gallery for our house. I have purchased approximately forty blinds, both manually and electronically controlled and have found the process quite seamless.
On each occasion when dealing with the staff I have received excellent service. The sales team have been very knowledgeable regarding the product they are selling.
Your front of house Hayley does her job to perfection and does an excellent job in promoting your brand. John, from a service and a technical side of the business does a great job and is very knowledgeable with the products and procedures. Nothing was too much trouble.
Nick. He is an excellent trades person and is an excellent example of the quality that The Blinds Gallery offers. I have recommended The Blinds Gallery to several friends and family as we have big windows where the up/down blinds are required.
Hayley and John, please pass on my sincere thanks to Nick for his excellent trades skills and forward this email to the appropriate people.
Kind regards David - Maylands
I have just had the guys leave from the installation of my new curtains. I couldn't jump on here quick enough and let you know what an amazing experience we have had and they look fantastic!
Right from the moment of meeting you Ferne, helping pick out the curtains and being patient with the decision making of two girls who can't make up their mind, to the two men who came to install them. They were amazing, there was no mess left, they were polite and did such a great job at the install.
We will definitely be back to finish the rest of the house soon!
Thank you again!
I am writing to say thank you very much for everything you have done for us in regards to our blinds installation.
We have found the quality and value far superior to any other blinds company.
Also, it has been a pleasure dealing with your friendly and professional staff.
Vaughan and Kathy Anderson - Madeley
I wish to say how delighted I am with the blinds that you recently made and installed for me. I must also mention that your prices were excellent compared to other quotes I received.
I would just like to say what wonderful customer service Michelle gave me when I came into the display showroom. I had a good idea of what I wanted but Michelle made suggestions and recommendations and showed me products I wasn't familiar with.
I have found your blinds give good value for price, and the installers are very pleasant and helpful. I wanted to let you know what a good experience dealing with your company has been.
Thank you for such a prompt reply and especially to Teresa for fantastic service when we met on Saturday.
Just wanted to say a BIG thank you for our amazing shutters they look amazing and really finish the house off. Lee was great to - very thorough and clean. Customer service was of very high standard and i would have no hesitation in recommending you. Thanks again.
Just to say "thank you" to everyone involved in the quoting, measuring, manufacture and instillation of internal shutters. We had a few hiccoughs upstairs but these problems were addressed and resolved. Downstairs went like clockwork.  Manufacturing time was much less and instillation was quick, clean and efficient thanks to Lee and Say who were like a well oiled machine. Great teamwork. Absolutely love the product and due to the efficiencies and the manner in which problems were handled, I would have no hesitation in recommending The Blinds Gallery.
I recently purchased some shutters from The Blinds Gallery. These beautiful cream shutters have added value to my property. I am eternally grateful for their business qualities and kindness. The installers, Neil and partner, where very professional with there work ethic and could not have been more pleasant. I'd also like to thank Giulia and Celia. Thank you all very much.