Soft, Silent and Stylish!
Introducing the new Veri Shades – the softness and style of curtains with the versatility of blinds.
With the new unique patented designed Veri Shades, you can have the elegance and versatility of a sheer and the privacy of a curtain. With the turn of a wand you can easily adjust the Veri Shades to control and adjust light levels depending on the position of the sun, or privacy required.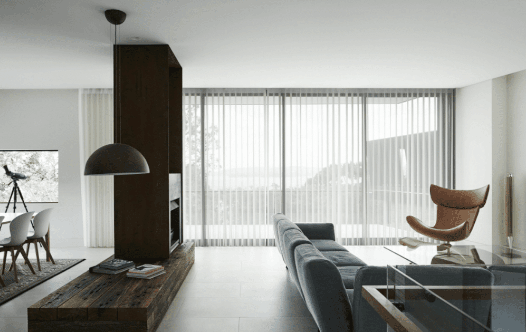 Easy to Operate
Twist wand operation makes Veri Shades quick, simple and safe.
Soft and Silent
No cords, weights or connecting chains. They are silent even in a breeze!
Functional
Unique patented design, allowing you to have translucent or opaque fabric at the twist of a wand.
Child and Pet Friendly
No cords means no tangles
Motorised option available
I have just had the guys leave from the installation of my new curtains. I couldn't jump on here quick enough and let you know what an amazing experience we have had and they look fantastic!
Right from the moment of meeting you Ferne, helping pick out the curtains and being patient with the decision making of two girls who can't make up their mind, to the two men who came to install them. They were amazing, there was no mess left, they were polite and did such a great job at the install.
We will definitely be back to finish the rest of the house soon!
Thank you again!
Laura & Kiara - Wellard
I am writing to say thank you very much for everything you have done for us in regards to our blinds installation.
We have found the quality and value far superior to any other blinds company.
Also, it has been a pleasure dealing with your friendly and professional staff.
Vaughan and Kathy Anderson - Madeley
I wish to say how delighted I am with the blinds that you recently made and installed for me. I must also mention that your prices were excellent compared to other quotes I received.
Janine - Jolimont
I would just like to say what wonderful customer service Michelle gave me when I came into the display showroom. I had a good idea of what I wanted but Michelle made suggestions and recommendations and showed me products I wasn't familiar with.
Amanda - Aveley
I have found your blinds give good value for price, and the installers are very pleasant and helpful. I wanted to let you know what a good experience dealing with your company has been.
Sally - Wanneroo
Thank you for such a prompt reply and especially to Teresa for fantastic service when we met on Saturday.
Luke - Caversham
Just wanted to say a BIG thank you for our amazing shutters they look amazing and really finish the house off. Lee was great to - very thorough and clean. Customer service was of very high standard and i would have no hesitation in recommending you. Thanks again.
Dea - Gwelup
Just to say "thank you" to everyone involved in the quoting, measuring, manufacture and instillation of internal shutters. We had a few hiccoughs upstairs but these problems were addressed and resolved. Downstairs went like clockwork.  Manufacturing time was much less and instillation was quick, clean and efficient thanks to Lee and Say who were like a well oiled machine. Great teamwork. Absolutely love the product and due to the efficiencies and the manner in which problems were handled, I would have no hesitation in recommending The Blinds Gallery.
Hilary - Fremantle
I recently purchased some shutters from The Blinds Gallery. These beautiful cream shutters have added value to my property. I am eternally grateful for their business qualities and kindness. The installers, Neil and partner, where very professional with there work ethic and could not have been more pleasant. I'd also like to thank Giulia and Celia. Thank you all very much.
Jennie - Applecross
WOW!!! I have never had a problem sorted out so quickly. Your fitter was most apologetic. Thank you very much for a great product and for such professional conduct. Good luck with your business.......Ferne was such a awesome person to deal with as well.......10/10.
Merryn - Success
Interest Free Available
Up to 12 months interest free available so that you can style your home now and pay later!
FIND OUT MORE
Want special offers delivered straight to your inbox?