What are the best blackout blinds?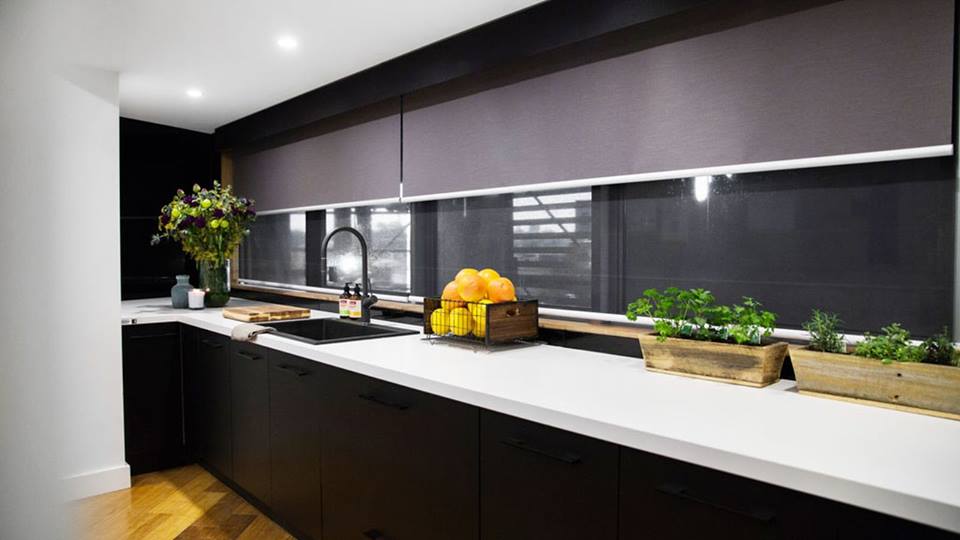 If light control and privacy are a major priority for you then finding the best blackout blinds should be at the top of your to-do list. Protection from the sun and curious onlookers are both important functions that many people are looking for in their window coverings. That's why you'll find many window cover options available in a wide range of different blockout fabric options.
The best blockout blinds for your home will do much more than simply block out the light, they will also protect the interior of your home from harmful UV radiation, which can help to prevent fading. Additionally, the best light block blinds will also reduce heat transfer and better insulate your home.
So, what are the best blackout blinds and which option should you choose?
Cellular blinds
Cellular blinds are some of the best blinds to keep light out. They're a popular option for bedrooms and living room spaces because they're also a very effective insulator, capable of reducing heat transfer by up to 80% and dramatically reducing your energy bill. They're available in a wide variety of fabrics, ranging from sheer to block out and feature a modern design made up of honeycomb-like cells. The cellular design traps air from moving in and out of your home which provides the insulation benefits that they are known for. Cellular blinds can be operated with a standard cord and cleat system, mono control looped cord, cordless or through a motorised control system. They are a great solution for homes with small children and pets, plus they're lightweight and can be customised to suit almost any window.
Roller blinds
Roller blinds are one of the most popular window treatments in Australia. You'll no doubt have seen them on many windows throughout your life. They're so versatile that they work in practically any room of the house. They're available in a wide range of fabrics and colours, and are an extremely unobtrusive option when fitted flush to your windows. When paired with a block out fabric and installed on the face of the wall, they become one of the best window treatment options for minimising light whilst maximising privacy. Roller blinds give a great deal of control of the amount of light filtering into a room and there are a variety of options available for operating them, including chain control and motorised control. To prevent any light from entering a room it's generally worth noting that there is usually a gap around the edges of a roller blind when installing into the recess of your window and so if you're opting for a blockout fabric you will want to measure at least an extra 30mm either side of your window.
Roman blinds
Roman blinds are another stylish window treatment option that can be paired with blockout fabrics for maximum light control and privacy. Roman blinds fold up on your window, neatly stacking at the top when not in use. They come in many different fabrics and styles, and are very light and unobtrusive making them ideal for a range of window sizes. If you want to get the best from your blockout blinds, we'd suggest mounting them outside of your window frame. Mounting your roman blinds inside the frame could allow some light to escape, whilst mounting them outside will give fuller coverage and will ensure that your room stays dark when they're down.
Curtains
If you prefer the look of curtains, then good news! They're also available in blockout fabrics. Curtains can be an excellent option for controlling the light and privacy in a room throughout the day. They come in a variety of styles and fit in well with everything from classic, country style to sleek, modern interiors.
Want a free measure and quote? Get in touch for advice from our expert team, or visit us at one of our showrooms today!
Interest Free Available
Up to 12 months interest free available so that you can style your home now and pay later!
I write this email in appreciation of the excellent service provided to me on three separate occasions when I have purchased blinds from The Blinds Gallery for our house. I have purchased approximately forty blinds, both manually and electronically controlled and have found the process quite seamless.
On each occasion when dealing with the staff I have received excellent service. The sales team have been very knowledgeable regarding the product they are selling.
Your front of house Hayley does her job to perfection and does an excellent job in promoting your brand. John, from a service and a technical side of the business does a great job and is very knowledgeable with the products and procedures. Nothing was too much trouble.
Nick. He is an excellent trades person and is an excellent example of the quality that The Blinds Gallery offers. I have recommended The Blinds Gallery to several friends and family as we have big windows where the up/down blinds are required.
Hayley and John, please pass on my sincere thanks to Nick for his excellent trades skills and forward this email to the appropriate people.
Kind regards David - Maylands
I have just had the guys leave from the installation of my new curtains. I couldn't jump on here quick enough and let you know what an amazing experience we have had and they look fantastic!
Right from the moment of meeting you Ferne, helping pick out the curtains and being patient with the decision making of two girls who can't make up their mind, to the two men who came to install them. They were amazing, there was no mess left, they were polite and did such a great job at the install.
We will definitely be back to finish the rest of the house soon!
Thank you again!
I am writing to say thank you very much for everything you have done for us in regards to our blinds installation.
We have found the quality and value far superior to any other blinds company.
Also, it has been a pleasure dealing with your friendly and professional staff.
Vaughan and Kathy Anderson - Madeley
I wish to say how delighted I am with the blinds that you recently made and installed for me. I must also mention that your prices were excellent compared to other quotes I received.
I would just like to say what wonderful customer service Michelle gave me when I came into the display showroom. I had a good idea of what I wanted but Michelle made suggestions and recommendations and showed me products I wasn't familiar with.
I have found your blinds give good value for price, and the installers are very pleasant and helpful. I wanted to let you know what a good experience dealing with your company has been.
Thank you for such a prompt reply and especially to Teresa for fantastic service when we met on Saturday.
Just wanted to say a BIG thank you for our amazing shutters they look amazing and really finish the house off. Lee was great to - very thorough and clean. Customer service was of very high standard and i would have no hesitation in recommending you. Thanks again.
Just to say "thank you" to everyone involved in the quoting, measuring, manufacture and instillation of internal shutters. We had a few hiccoughs upstairs but these problems were addressed and resolved. Downstairs went like clockwork.  Manufacturing time was much less and instillation was quick, clean and efficient thanks to Lee and Say who were like a well oiled machine. Great teamwork. Absolutely love the product and due to the efficiencies and the manner in which problems were handled, I would have no hesitation in recommending The Blinds Gallery.
I recently purchased some shutters from The Blinds Gallery. These beautiful cream shutters have added value to my property. I am eternally grateful for their business qualities and kindness. The installers, Neil and partner, where very professional with there work ethic and could not have been more pleasant. I'd also like to thank Giulia and Celia. Thank you all very much.